Lifelong pro-European campaigner says he has been committed to Europe since 'standing under German bombs in 1940'
Lord Heseltine has said he is "not surprised" that leading Brexiteers in government appear not to understand what they are doing, in a thinly-veiled attack on senior Eurosceptics promoted to Theresa May's Cabinet.
While not naming Boris Johnson, David Davis and Liam Fox, the Tory peer said it was right that those who campaigned to leave the EU be put in charge of Government departments to ensure they take responsibility for the difficult decisions ahead.
"I said at the time, you've got to put the Brexiteers in charge, or otherwise the right wing will never accept it. They will say if we'd have been there we'd have done it better," he said during a discussion event at Oxford University.
"I have to say there was an element of cynicism in my judgment because I knew they wouldn't have a clue what to do. And read today's newspapers and you'll see each is bickering with the other.
"They say, 'We must tell the Europeans what we want.' But the Europeans will tell us what we can have. We are leaving the club. The club will be the ones that say what the deal is going to be."
Speaking shortly after the emergence of his letter to the Prime Minister in the wake of his sacking from his advisory role in government, he said: "She didn't believe Brexit was right but perhaps she now does. If she now does she must be entitled to pursue her new found convictions. It doesn't mean I have to join her."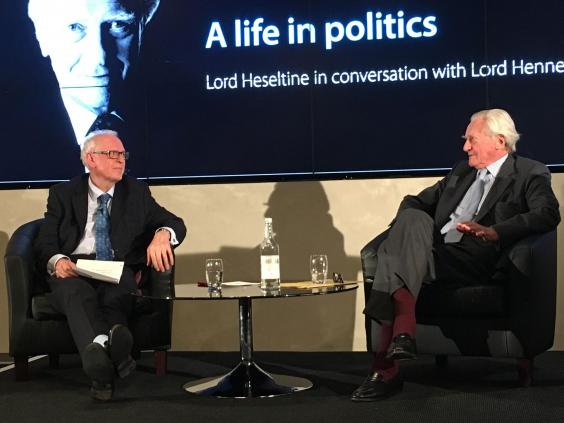 The party grandee also read from the letter he had received from Theresa May, notifying him that he had been removed from his role as a government advisor over his decision to vote against the Withdrawal of the European Union bill.
It said: "I'm sad that this important contribution had come to an end following your decision to vote against the Government on the European Union Notice of Withdrawal Bill, but I know that with your many years of experience in Parliament, you understand why that must be."
He then read from his own letter to Theresa May, in which he said, the Prime Minister had changed her mind on Brexit, but "I have not".
The former Cabinet minister also said he was "appalled" at the prospect of the breakup of the United Kingdom.
"I am appalled by the thought of the dismemberment of the union," he said.
Further Reading: